Developments
Elderly & Disabled Housing:
The AHA consists of four complexes of elderly and disabled State aided Public Housing. Three of the four buildings are located by the Morton Street office: Chestnut Court, Grandview Terrace, and Stowe Court. The fourth complex is Frye Circle, located at 256 North Main Street.
All complexes include one-bedroom, one living area serving as a kitchen/living room (or one small kitchen with separate small living room) and a bathroom. If you are requesting a first floor you need to attach a physician's note stating that it is necessary for you to live on the first floor. WE DO NOT HAVE ELEVATORS.
Family Housing:
Our family complex is located on Memorial Circle. This State Aided Public Housing includes apartments with two floors. The downstairs has a kitchen and living room, and if a three- or four-bedroom apartment there may be one first floor bedroom. The 2nd floor has the bathroom and bedroom(s). We have 2, 3, and 4-bedroom units. The bedroom size is selected by the fact that a household may choose a unit with enough bedrooms so that two people do not share a bedroom unless:
They are husband and wife
A single parent with a child under eight.
Children under eight, regardless of sex.
Veteran's Preference is available in the Elderly/Disabled and Family Conventional Housing Development and will be given to individuals applying for conventional housing if official verification of character and length of service of the veteran is provided with the application.
Memorial Circle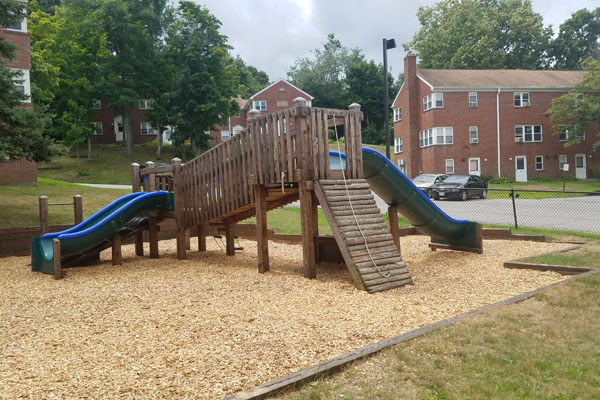 Memorial Circle includes all our family housing and was built in 1949. There are 12 different buildings with a total of 56 apartments, one which is a fully equipped wheel chair assessable unit. Each apartment is equipped with laundry hook ups in the basement area if you wish to supply your own washer and/or dryer. There is anywhere from 600 - 1000 sf of living space.
WE DO NOT HAVE ELEVATORS.
Documents
To Apply for State Housing:
Please note: Calls requesting where you are on the list are not accepted. We will notify you by mail when you are within top 10-20 applicants.